We offer you a handy and useful Bible to have on your phone every day!
The best app to read and listen the Holy Word of God. Download for free and use it anywhere because this Bible works on line and offline. Not everyone has access to WIFI so we made a Bible that can be read even without Internet connection.
Read and listen the Holy Bible in easy language at home, church or on the go. Listen the Holy Word while you are driving in the car, laying down or relaxing.
Enjoy reading the truth of God, the great book that will change your life.
Listen to just 10 minutes a day and you will get through the entire Bible in a year
Benefits of the app:
– Free and off line
– Audio Bible version (Listen to the complete Bible)
– User-friendly interface
– Basic English Version of the Bible
– Add notes to your favorite verses
– Select, copy and share verses
– Add verses to favorites
– Night mode to change the screen's luminosity for a comfortable reading
– Ability to increase or decrease the font
– Keyword research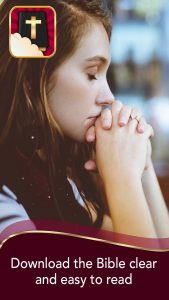 Read the complete Bible and know all the books.
The Bible is divided into two main parts: the Old and the New Testament.
The Old Testament is composed of 39 books: Genesis, Exodus, Leviticus, Numbers, Deuteronomy, Joshua, Judges, Ruth, 1 Samuel, 2 Samuel, 1 Kings, 2 Kings, 1 Chronicles, 2 Chronicles, Ezra, Nehemiah, Esther, Job, Psalms, Proverbs, Ecclesiastes, Song of Solomon, Isaiah, Jeremiah, Lamentations, Ezekiel, Daniel, Hosea, Joel, Amos, Obadiah, Jonah, Micah, Nahum, Habakkuk, Zephaniah, Haggai, Zechariah, Malachi.
The New Testament is composed of 27 books: Matthew, Mark, Luke, John, Acts, Romans, Corinthians 1 and 2, Galatians, Ephesians, Philippians, Colossians, 1 Thessalonians, 2 Thessalonians, 1 Timothy, 2 Timothy, Titus, Philemon, Hebrews, James, 1 Peter, 2 Peter, 1 John, 2 John, 3 John, Jude, Revelation.