Modern Bible is a free online Bible providing access to the Updated King James Version of the Bible, the most renowned Bible with modern vocabulary, easier to understand.
Download it and enjoy the miracle of the Holy Bible, 4,000 years of history preserved in this incredible book.
We offer an intuitive and easy-to-use app to read and listen to the Holy Bible on your phone or tablet.
Features of the app:
– Audio Bible version (Listen to the complete Bible)
– Totally free
– Offline (you can read it without Internet connection)
– User-friendly interface
– Select, copy and share verses
– Add verses to favorites
– Add your own notes
– Keyword search
– Night mode to change the screen's luminosity for a comfortable reading
– Ability to increase or decrease the font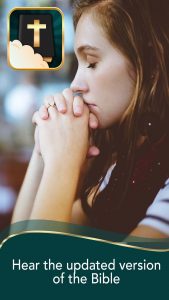 The Bible will show you the way that will change your life. God's Word is infallible, perfect and sufficient for all of our needs. We do not need anything else.
Study the Bible because it is God's plan for your life. We can help you; our mission is to spread the truths of the holy Bible to more and more people.
The Bible is a collection of 66 books divided into two Testaments: The Old and the New Testament.
The Old Testament comprises 39 books: Genesis, Exodus, Leviticus, Numbers, Deuteronomy, Joshua, Judges, Ruth, 1 Samuel, 2 Samuel, 1 Kings, 2 Kings, 1 Chronicles, 2 Chronicles, Ezra, Nehemiah, Esther, Job, Psalms, Proverbs, Ecclesiastes, Song of Solomon, Isaiah, Jeremiah, Lamentations, Ezekiel, Daniel, Hosea, Joel, Amos, Obadiah, Jonah, Micah, Nahum, Habakkuk, Zephaniah, Haggai, Zechariah, Malachi.
The New Testament comprises 27 books: Matthew, Mark, Luke, John, Acts, Romans, Corinthians 1 and 2, Galatians, Ephesians, Philippians, Colossians, 1 Thessalonians, 2 Thessalonians, 1 Timothy, 2 Timothy, Titus, Philemon, Hebrews, James, 1 Peter, 2 Peter, 1 John, 2 John, 3 John, Jude, Revelation.