Do you love God and think the Bible is the best book ever? Would you like to carry with you God´s word wherever you go?
Now with this app 100% FREE you can take with you in your phone a complete Bible for reading and listening.
Be part of the thousands of people who already downloaded this app and really loved it!
New features of the app:
– Audio Bible: Read and hear the Bible anytime
– The best of this app is that it will work at any time even if you do not count with internet access.
– Free download
– You can select, and copy verses
– You can make a list of favorites
– Share verses in social networks
– Research by keyword
– Add your own notes
– Text-size-adjust for a comfortable reading
– Night mode to change the screen's luminosity and protect your eyes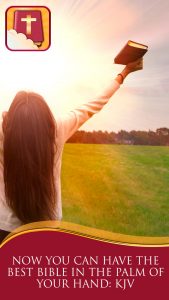 What is the King James Bible?
It´s an English translation of the Christian Bible by the Church of England, authorized by the King James I and finished in 1611. This version is also known as the Authorized Version.
Read one chapter per day and get inspired with the Holy Word.
Download it now FREE in your Android through Google Play Store and start experiencing a personal relationship with the Living God.
List of books of the King James Version (KJV):
Old Testament: Genesis, Exodus, Leviticus, Numbers, Deuteronomy, Joshua, Judges, Ruth, 1 Samuel, 2 Samuel, 1 Kings, 2 Kings, 1 Chronicles, 2 Chronicles, Ezra, Nehemiah, Esther, Job, Psalms, Proverbs, Ecclesiastes, Song of Solomon, Isaiah, Jeremiah, Lamentations, Ezekiel, Daniel, Hosea, Joel, Amos, Obadiah, Jonah, Micah, Nahum, Habakkuk, Zephaniah, Haggai, Zechariah, Malachi.
New Testament: Matthew, Mark, Luke, John, Acts, Romans, Corinthians 1 and 2, Galatians, Ephesians, Philippians, Colossians, 1 Thessalonians, 2 Thessalonians, 1 Timothy, 2 Timothy, Titus, Philemon, Hebrews, James, 1 Peter, 2 Peter, 1 John, 2 John, 3 John, Jude, Revelation.